ConvertKit Add-on
Get personal and make sales with ConvertKit data!
Finally, you can use ConvertKit data to personalize your WordPress website.
Integrate your mailing list data with your WordPress site to display more relevant messages, and boost your conversion rate.
With ConvertKit for Logic Hop you can easily:
Message visitors directly – Show user's name and location
Upsell premium products to your best customers
Offer coupon codes to tagged subscribers
Update subscriber tags & custom fields from your website
Create personalized experiences for your ConvertKit subscribers.
The ConvertKit Add-on is a WordPress plugin that extends the functionality of Logic Hop. With the plugin you can display ConvertKit data to your subscribers and personalize your website.
ConvertKit tags and custom fields can be used with any Logic Hop condition while Logic Hop goals let you add or remove subscriber tags and update custom field data. You can even increment custom fields to add lead scoring to ConvertKit!
Features:
Display ConvertKit Subscriber data & Custom Fields
Display content based on Subscriber Tags
Add & remove Subscriber Tags from Logic Hop Goals
Update Custom Fields based on website activity

Increment & decrement fields for lead scoring
Add custom content from forms

Works with any Logic Hop Goal or Condition
Included free with any Logic Hop plan.
Requirements:
WordPress Website
Logic Hop Plugin
ConvertKit Account
View the documentation for full details.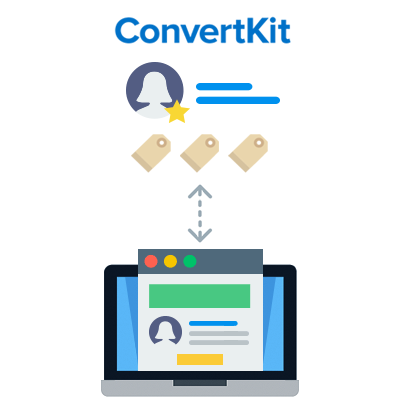 What people are saying about Logic Hop
"Logic Hop has resulted in more signups, more people checking out my book and more coaching clients."
Jorge Vergara
JAVEBRATT – Ionic Framework Tutorials
"I'd been trying to figure out how to do site personalization forever. Finally found Logic Hop."
Justin Jackson - @mijustin
Jolt, Product People Club, Tiny Marketing Wins